'Empire Of The Damned' – New album PledgeMusic campaign
Falling Red are delighted to announce the launch of our PledgeMusic campaign for the release of our highly anticipated second album, 'Empire Of The Damned'.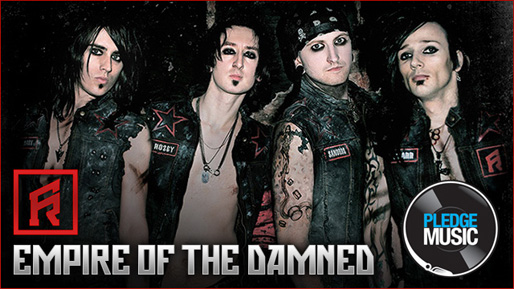 PledgeMusic is a way for fans to help their favourite artists make and release their records. As a pledger, you will gain access to exclusive content and experiences, available only through PledgeMusic.
As part of our pledge campaign we have some amazing 'exclusives' on offer.
All pledgers who pledge for an exclusive item will also receive a digital download of the album upon it's release!

Our regular pledge includes:
'Empire Of The Damned' – album download + updates.
Our amazing exclusive content includes:
'Empire Of The Damned' on CD (not Ltd Edition)
'Empire Of The Damned' Ltd Edition CD
'Empire Of The Damned' Launch Party
Exclusive T-Shirt designed by FR (new, just for pledgers)
Handwritten Lyric Sheet (signed by the band)
Signed Drum Sticks
Skype Interview
Jam session with Falling Red
Signed Poster
Exclusive Painting / Artwork by Rozey
Custom Made FR Jacket
Private Live Performance
We can't wait to have you all involved and look forward to your support on this amazing project out ours.
Visit our official pledge page here, whre you can find out more info about our exclusive offers and more about the pledge itself: www.pledgemusic.com/artists/fallingred
A percentage of all raised funds will be donated to S.O.P.H.I.E – The Sophie Lancaster Foundation (for more info visit www.sophielancasterfoundation.com